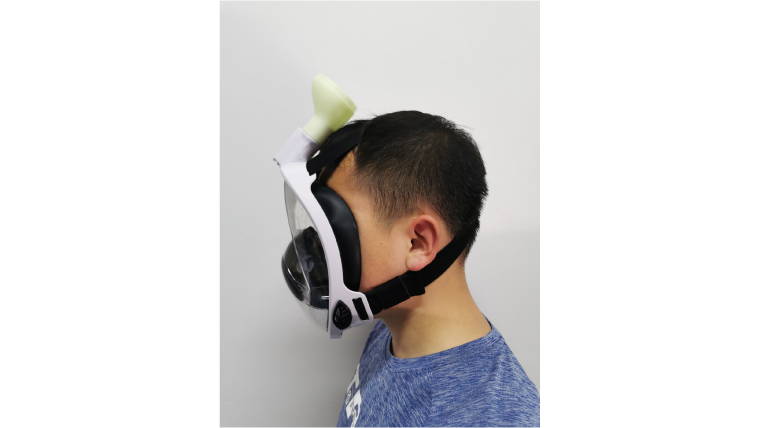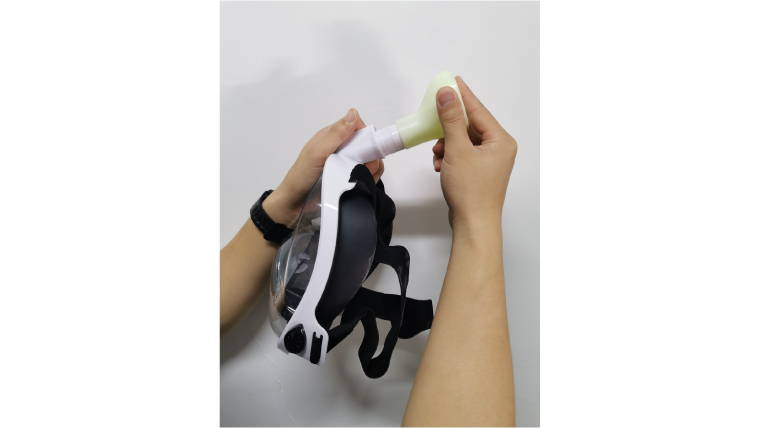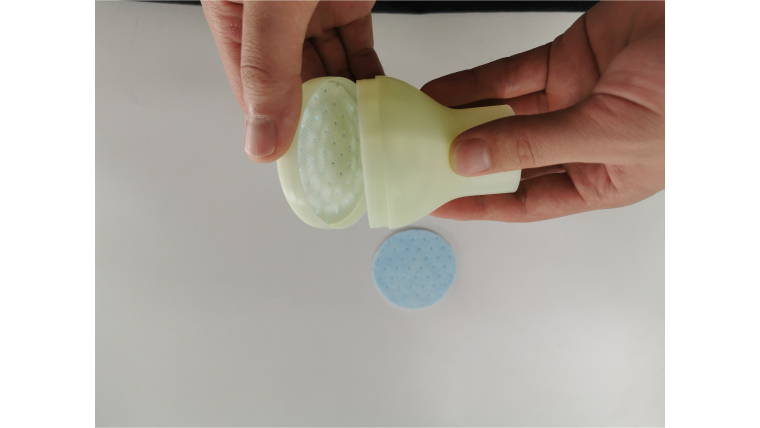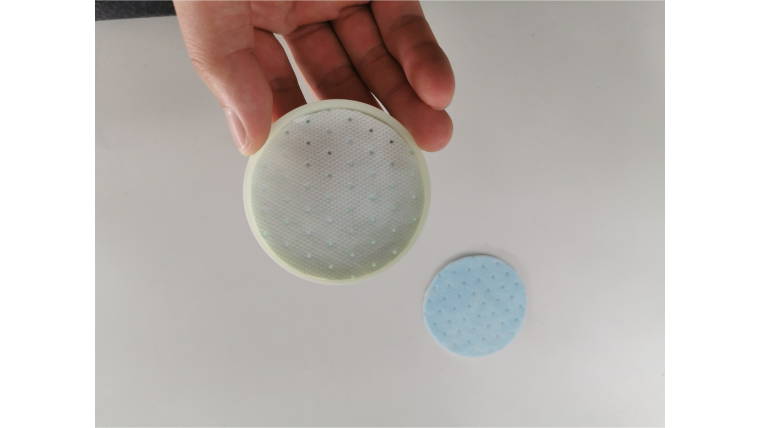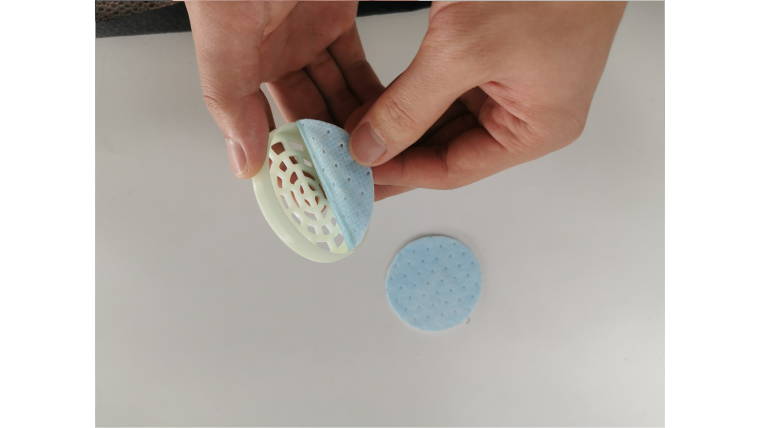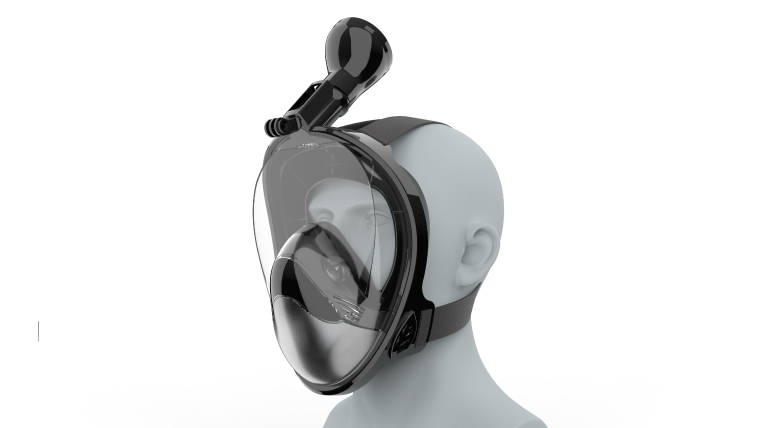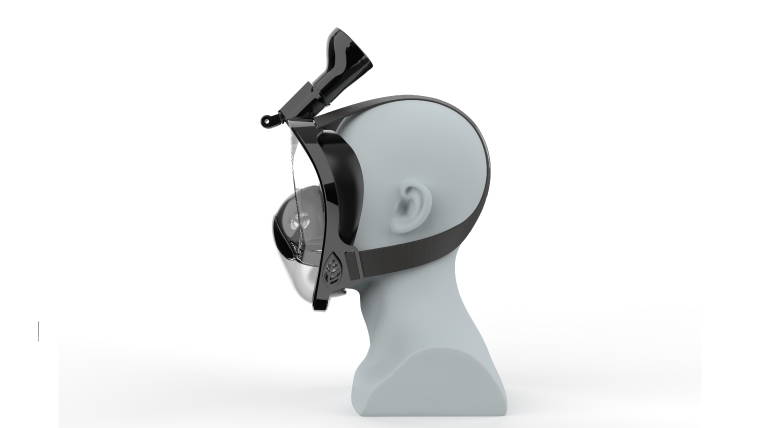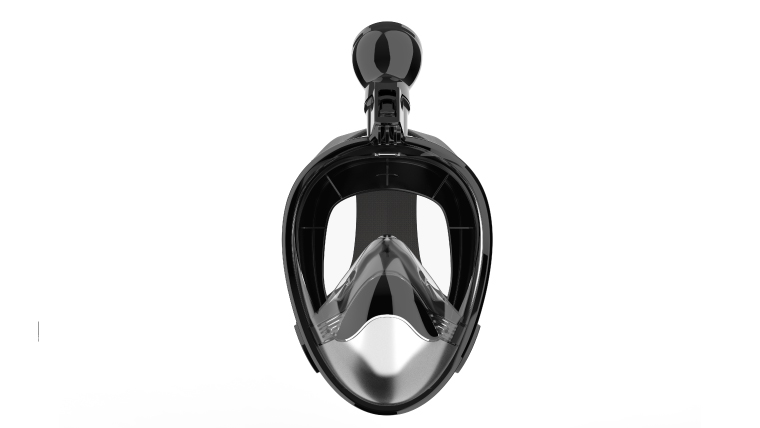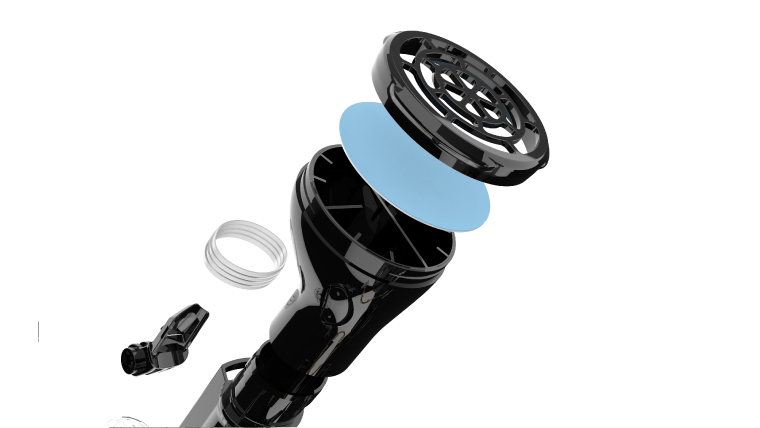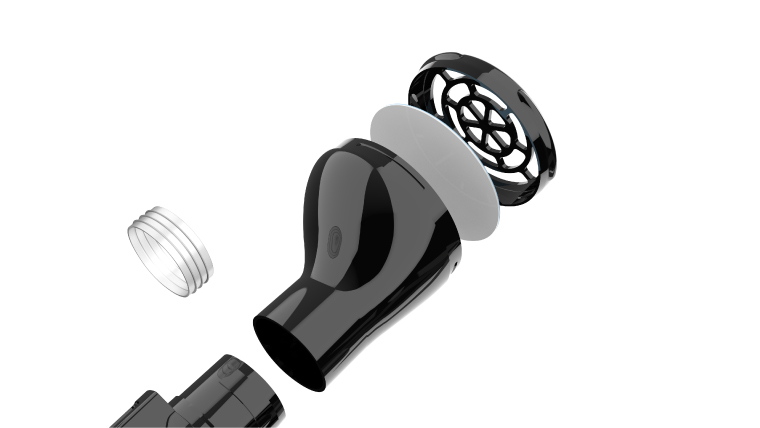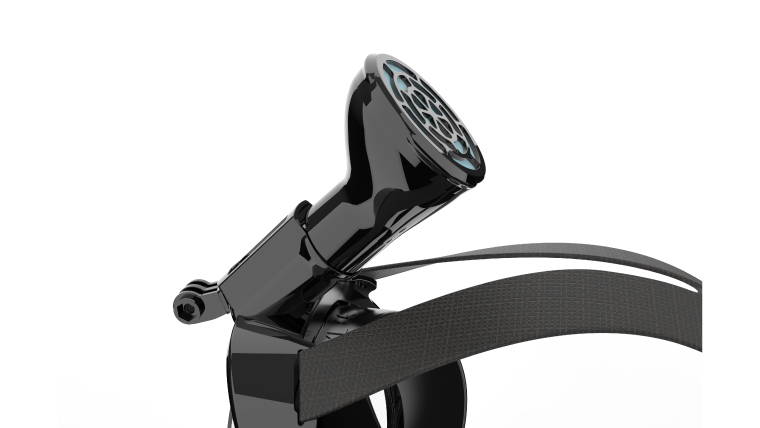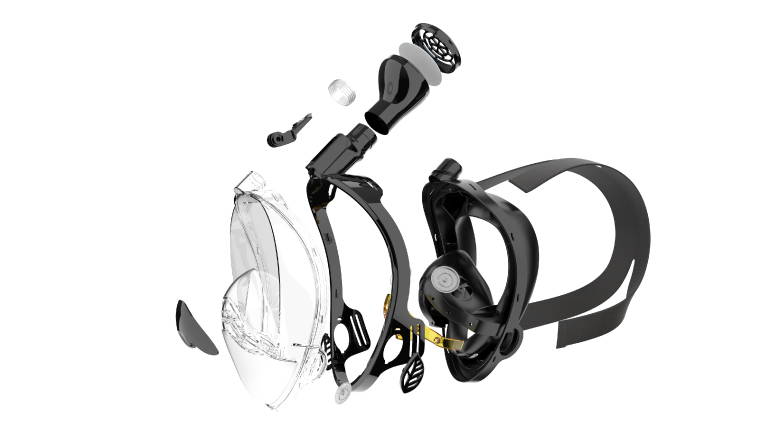 Full Face Snorkel Mask with Advanced Environmental Air Filter
Add the Air Filter option to the Full Face Snorkel Mask - Ninja Shark Air Mask (adults & kids)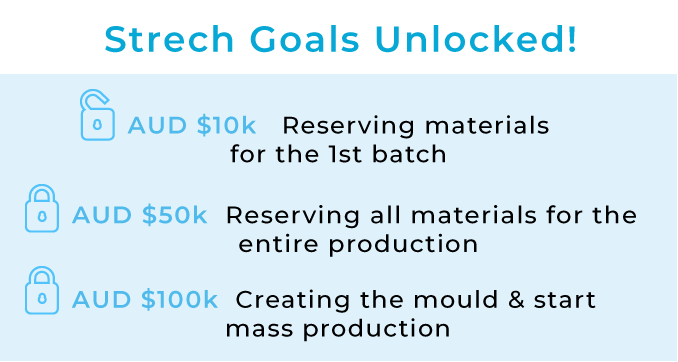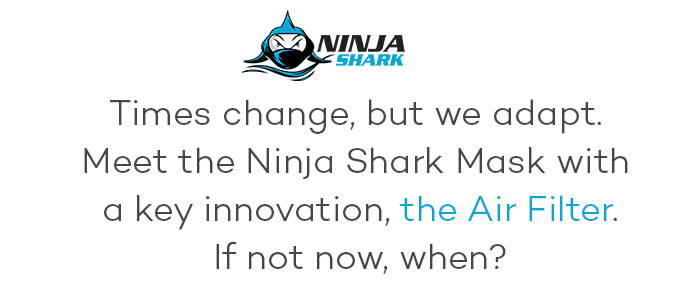 Protect yourself and your loved ones from dangerous airborne particles. The Ninja Shark Mask with an Advanced Air 99 Filter provides a physical barrier to droplets and nanoparticles. With different sizes available you can take advantage of the benefits and features of the AIR FILTER.
An outdoor shield with an advanced air filtering system that:
Protects against you against environmental threats
Protects the environment - it's ECO-Friendly (reusable)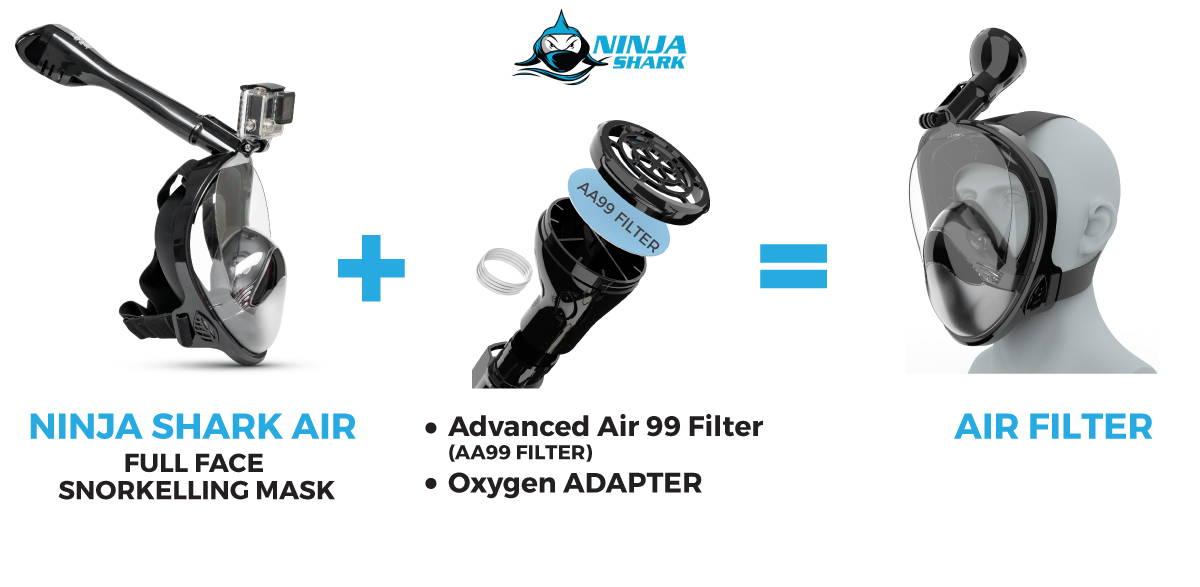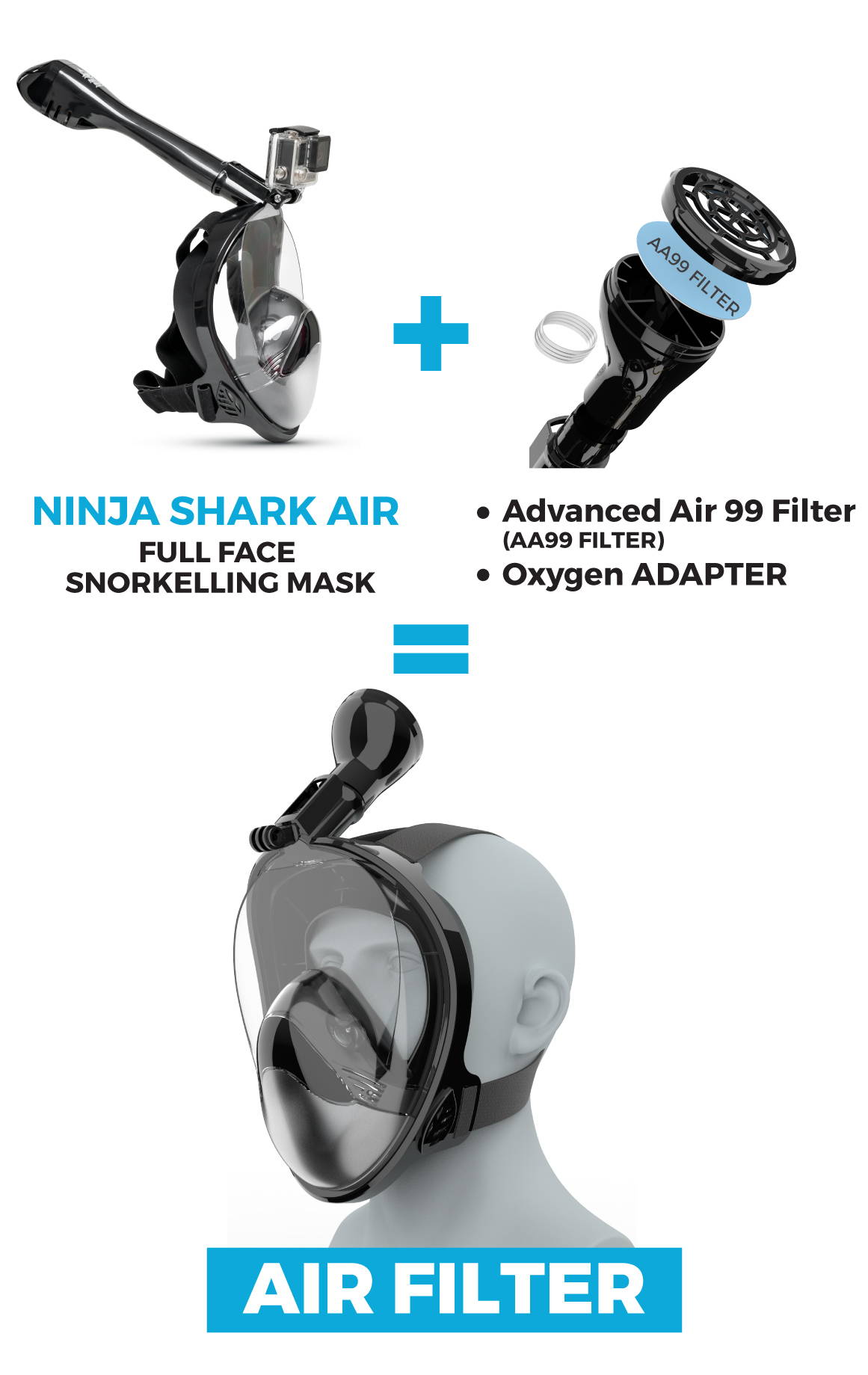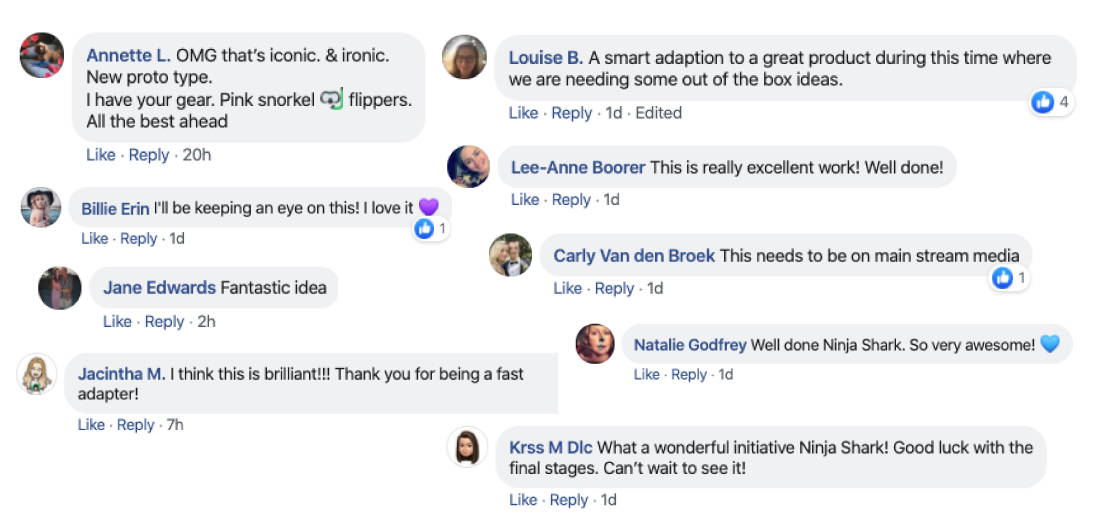 Although we're very close to completing all of the steps and moving into the final stage of production, we still have a few hurdles that we'll bypass with your help.
Because the materials we're using are currently in high demand, prices have skyrocketed. On top of that, a minimum order is required before we can start mass production. Like any other small family business with no other form of funding (especially with the current economic situation), financing this project is proving to be the biggest challenge for us so far.
That's why we've launched the following:
2. A CROWDFUNDING PRE-ORDER PURCHASE OPTION for yourself and your loved ones.

• ADVANCED AIR 99 FILTER SYSTEM
The AIR FILTER is an adapter fitted with ADVANCED AIR FILTER SYSTEM. Intended to be attached to any NINJA SHARK AIR MASK (ADULT AND KIDS)
The new generation filter, works great for filtering the air, against droplets, airborne nano-particles, pollution and other environmental threats.
It also allows you to breathe comfortably.
Laboratory test showed that it has a Filtration Efficiency of UP TO 99.993%, for aerosol and other airborne nano-particles
**Disclaimer: The elderly, pregnant women and those with severe lung or heart problems who have difficulty breathing at rest or on exertion should consult their doctor as to whether they should use the AIR FILTER mask.
• 2.2cm FITTING ADAPTER (inspired by HEPA connectors)
The AIR FILTER also comes with an OXYGEN ADAPTER that can be used on the oxygen respirator, attaching a PAPR unit and hose to the snorkel tube.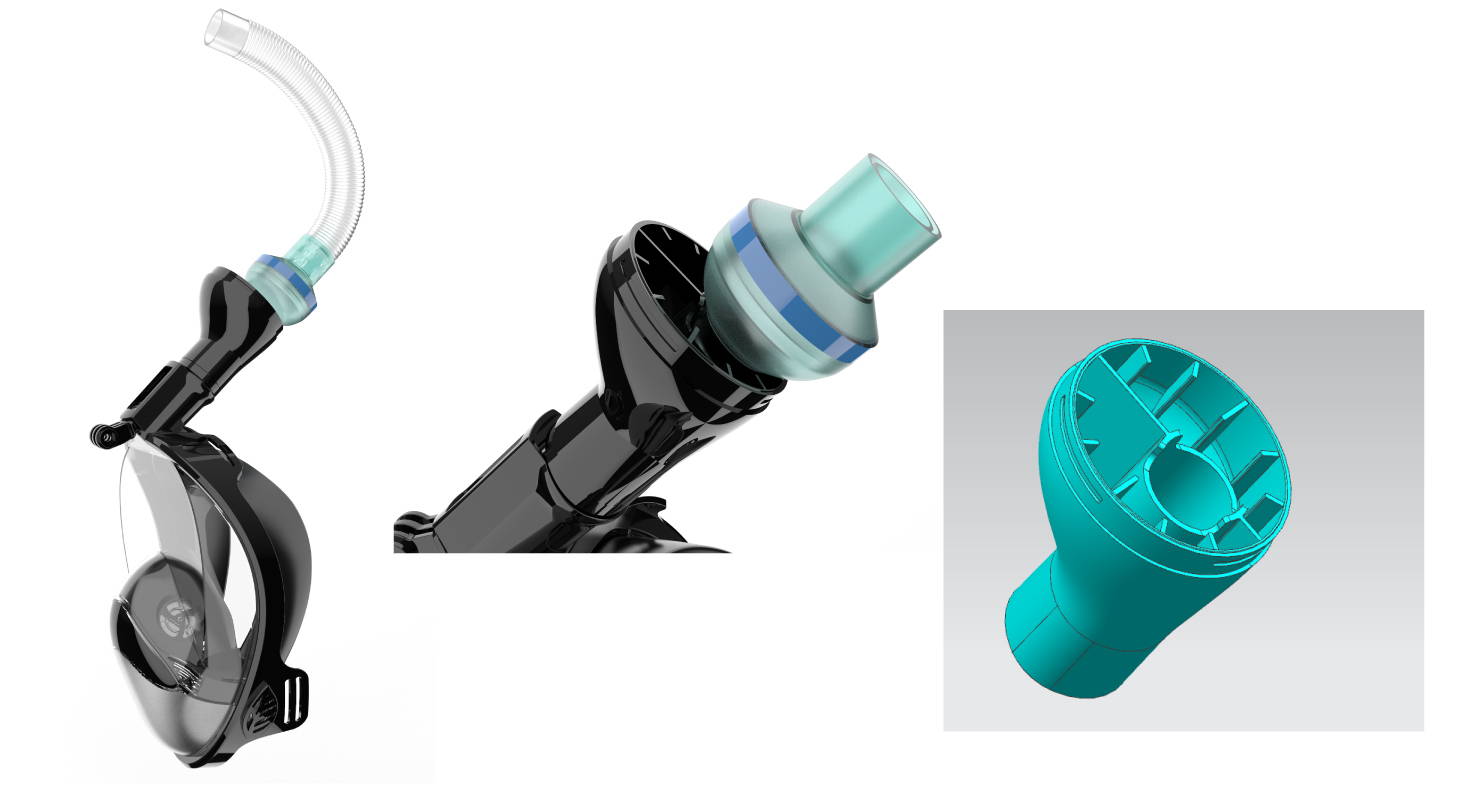 The AIR FILTER acts as a SHIELD, a repellent against droplets and filters the dangerous nanoparticles
The AIR FILTER also STOPS YOU from touching your face, safeguarding your eyes, nose, and mouth.
• DESIGNED TO BE USED BY EVERYONE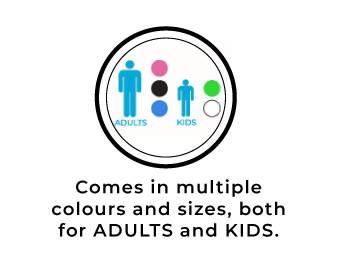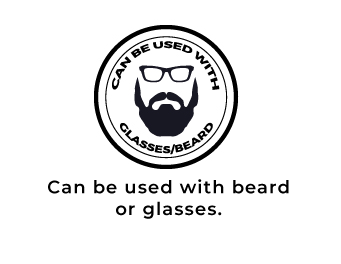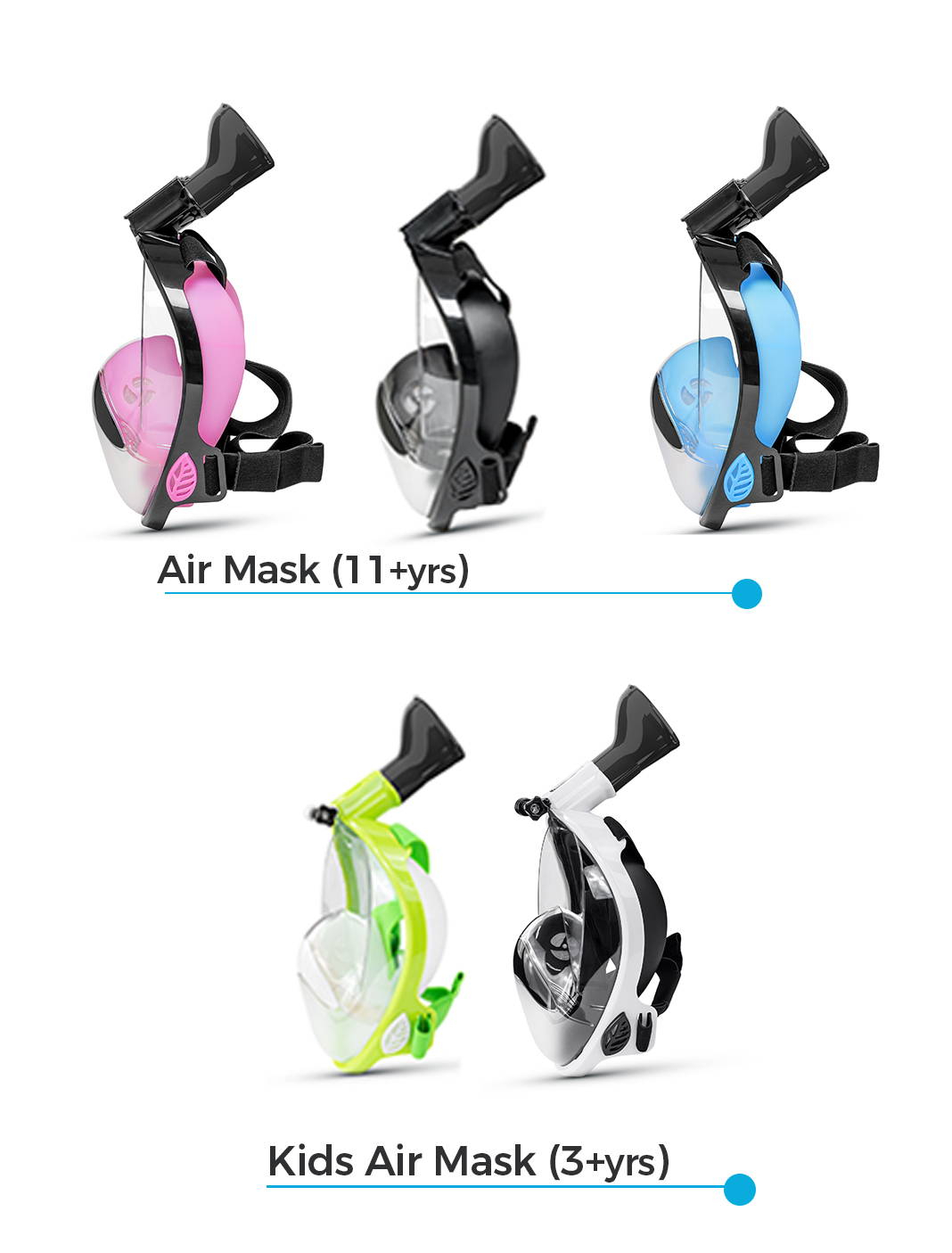 HOW TO CHOOSE THE RIGHT SIZE ⬇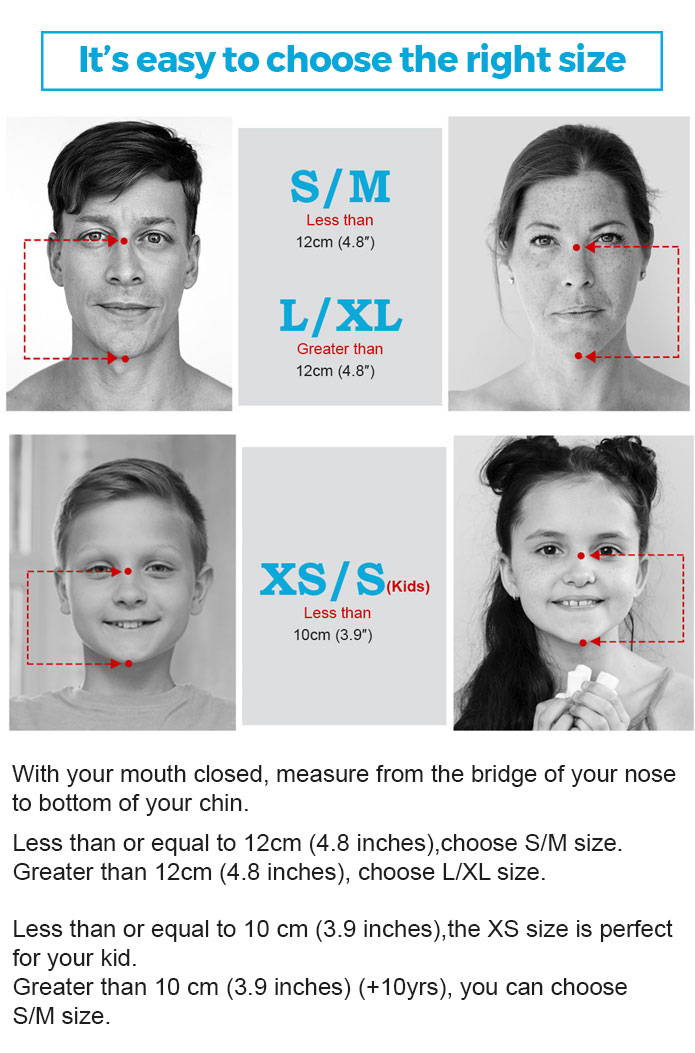 • AIR FILTER vs. OTHER MASKS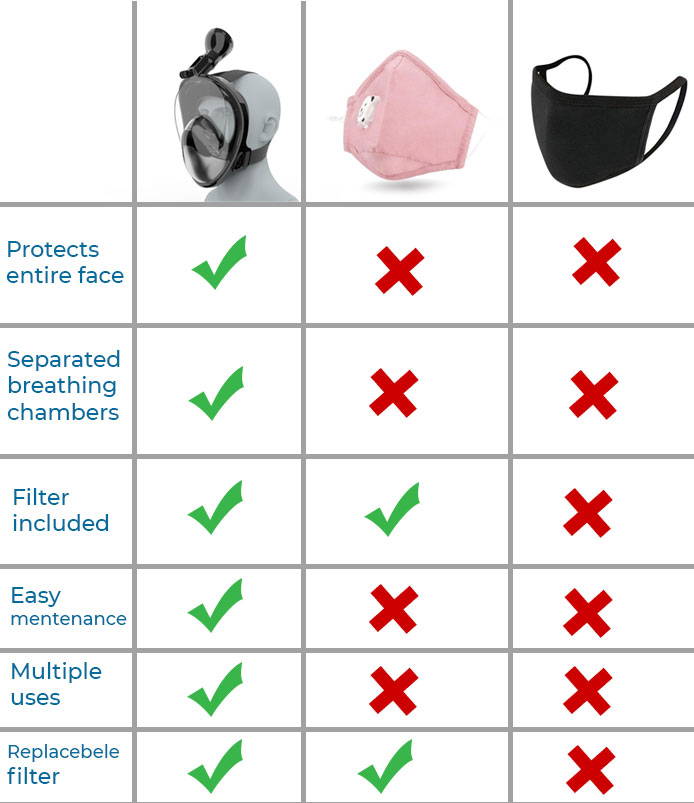 Due to the recent events, people have bought up thousands of disposable surgical masks, and while it's a good thing people are taking action to stay healthy, it's having a terrible impact on our planet.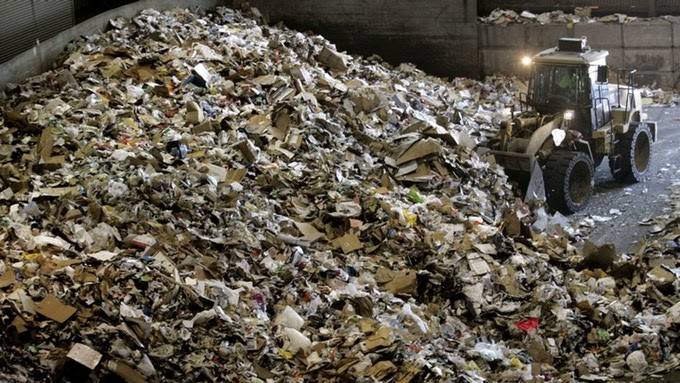 With the AIR FILTER you only need to replace the filter inside the adapter, a proces that only takes a couple of seconds

The AIR FILTER same as all our full face snorkel masks comes with a lifetime warranty.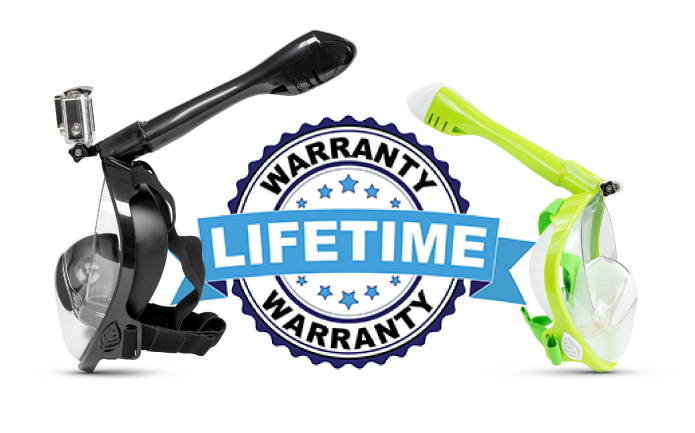 AIR FULL FACE SNORKEL MASK
At the heart of AIR FILTER  is our AIR Full Face Snorkel Mask, because:
1. It's the most cost-effective option - meaning low production and acquisition (from your side as well)

cost.

2. Due to the nature of the breathing system in the Ninja Shark Air mask - inhalation is made from the top and exhalation through the bottom - not mixing the air breathed and making the filter last longer.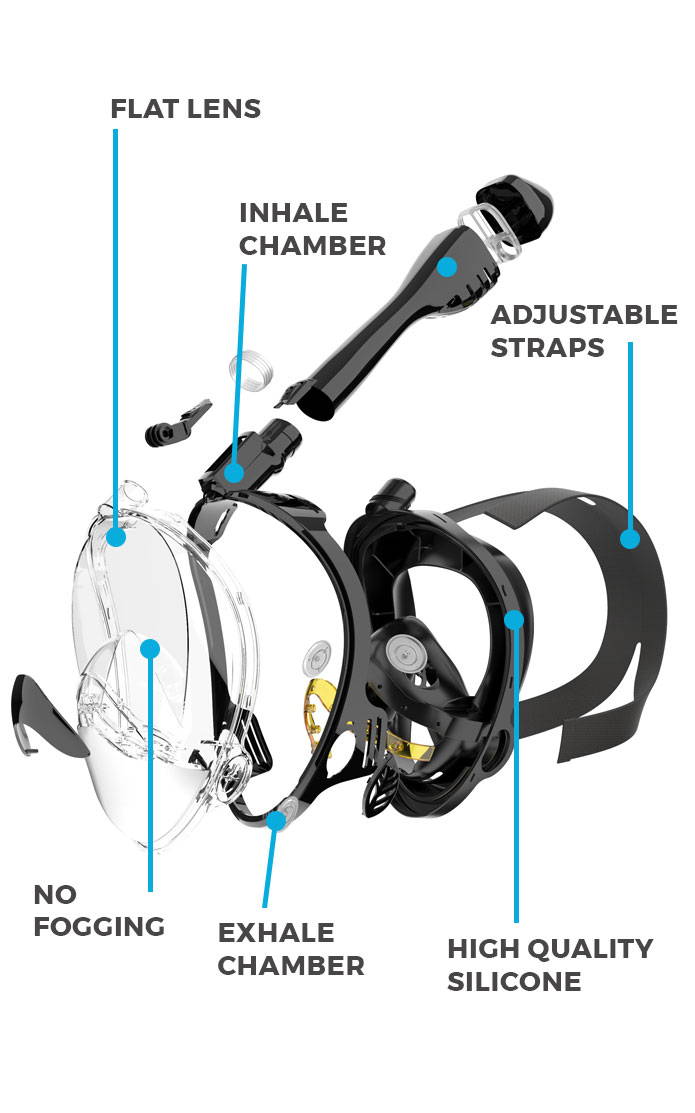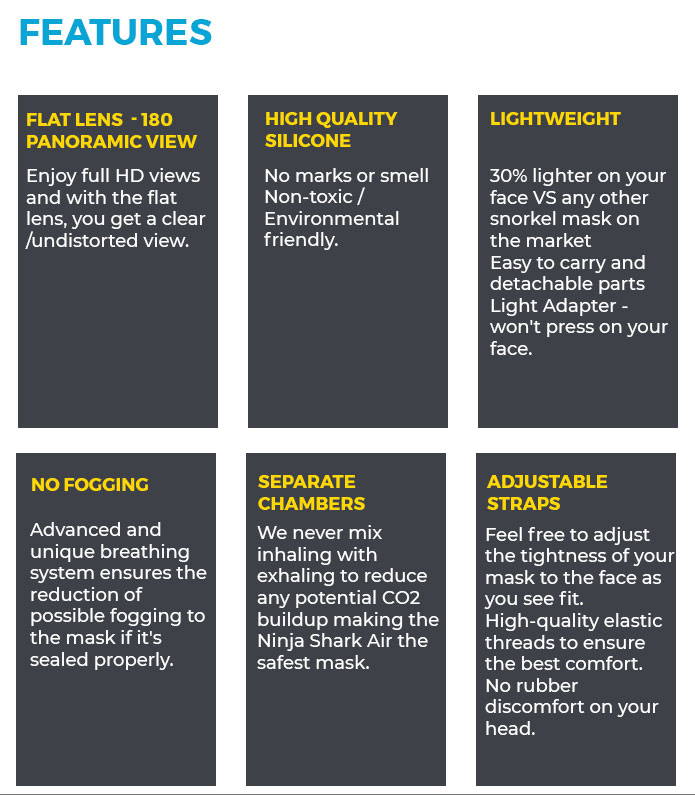 • CAN BE USED FOR SNORKELLING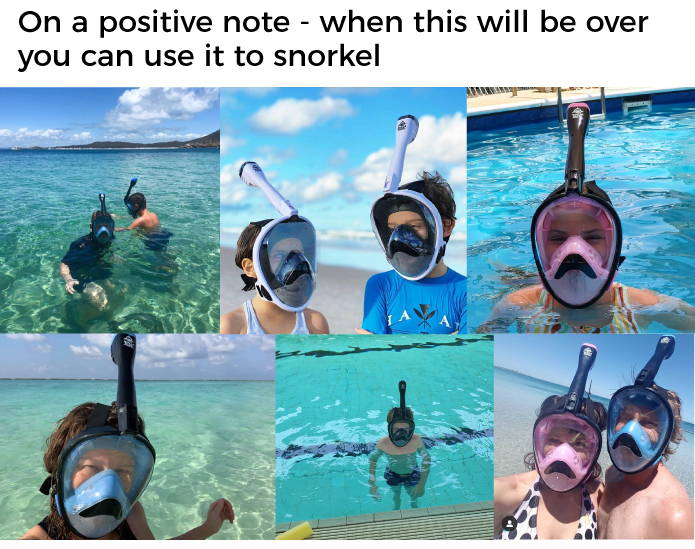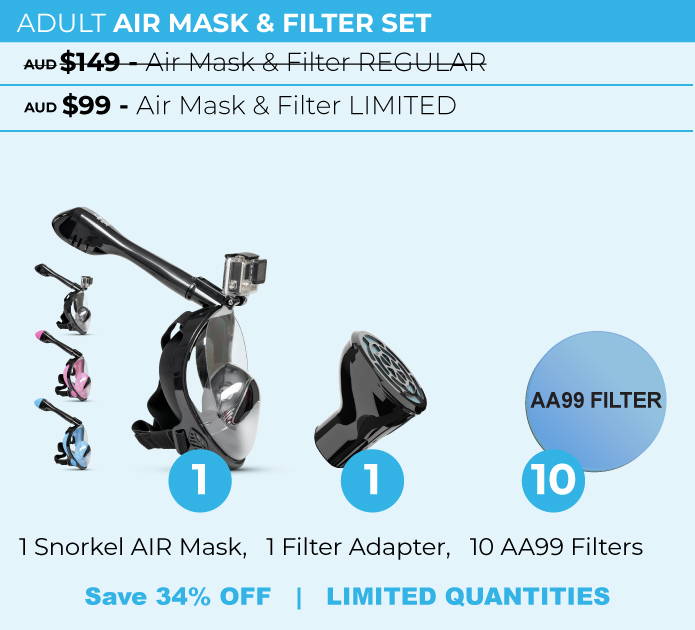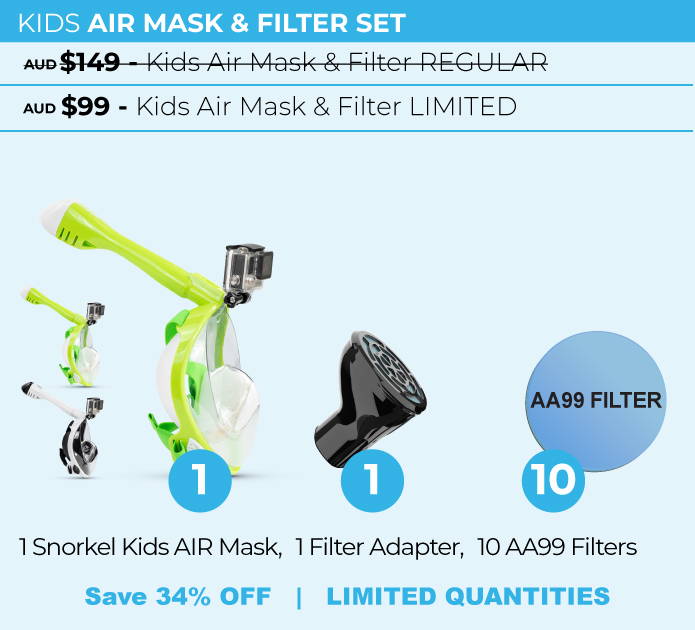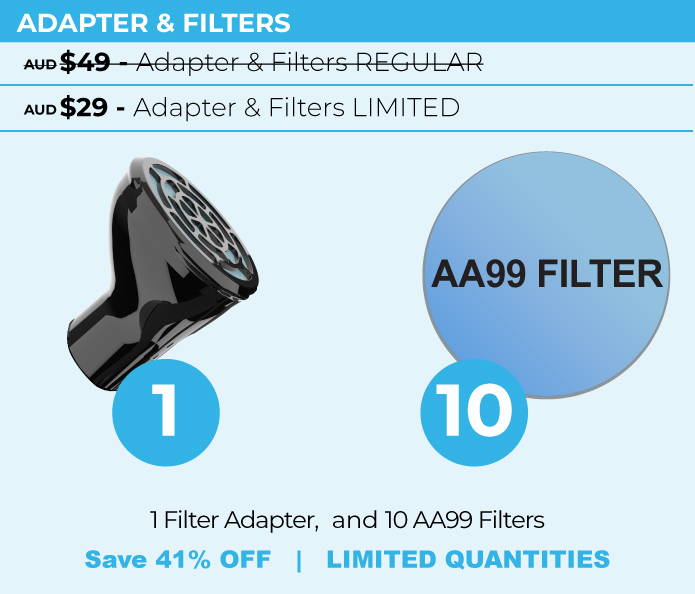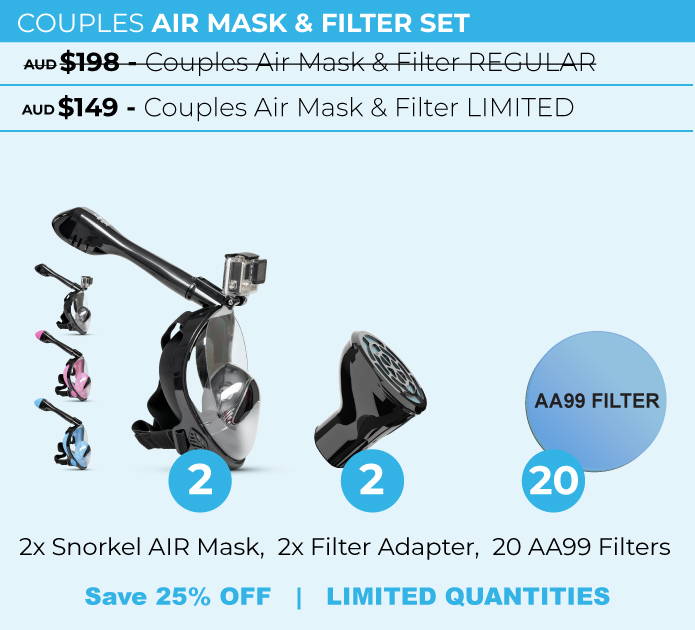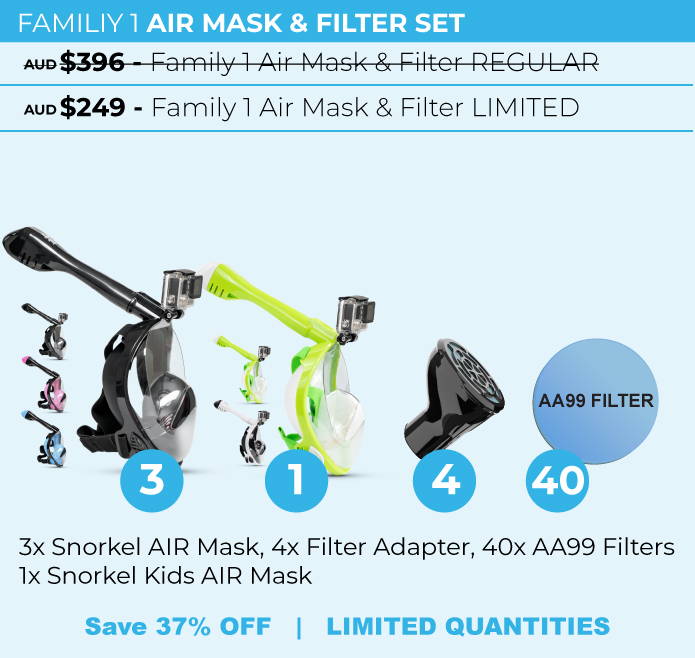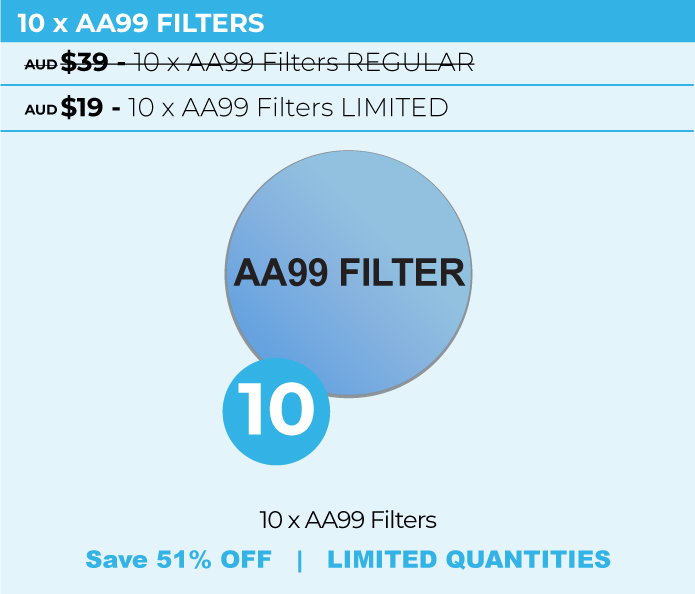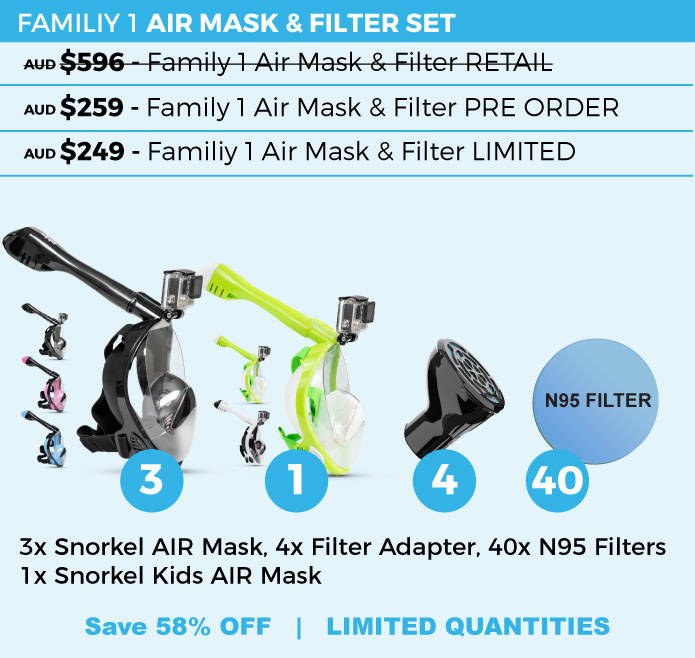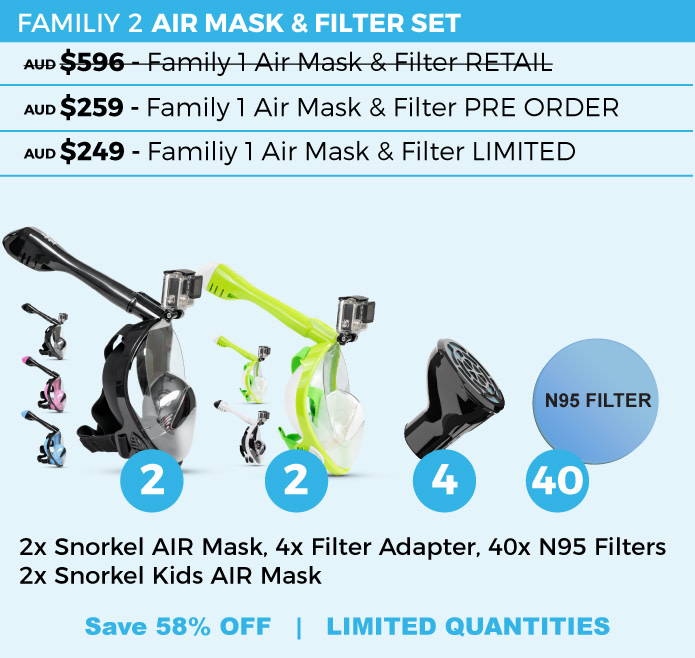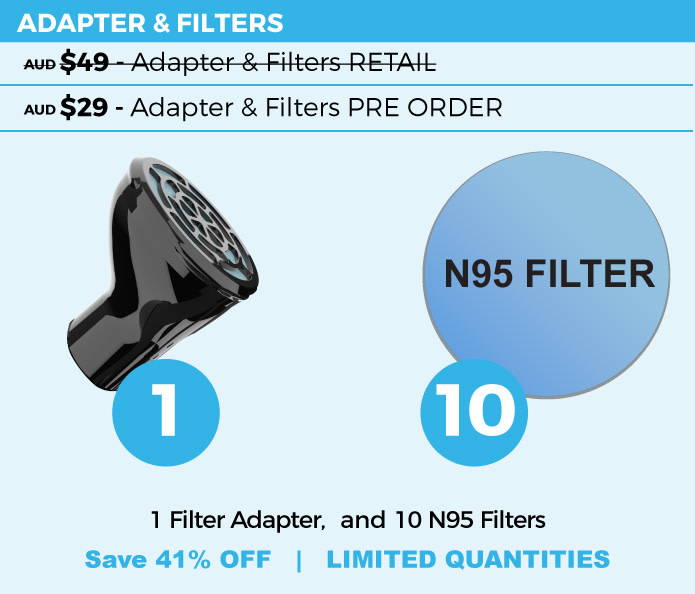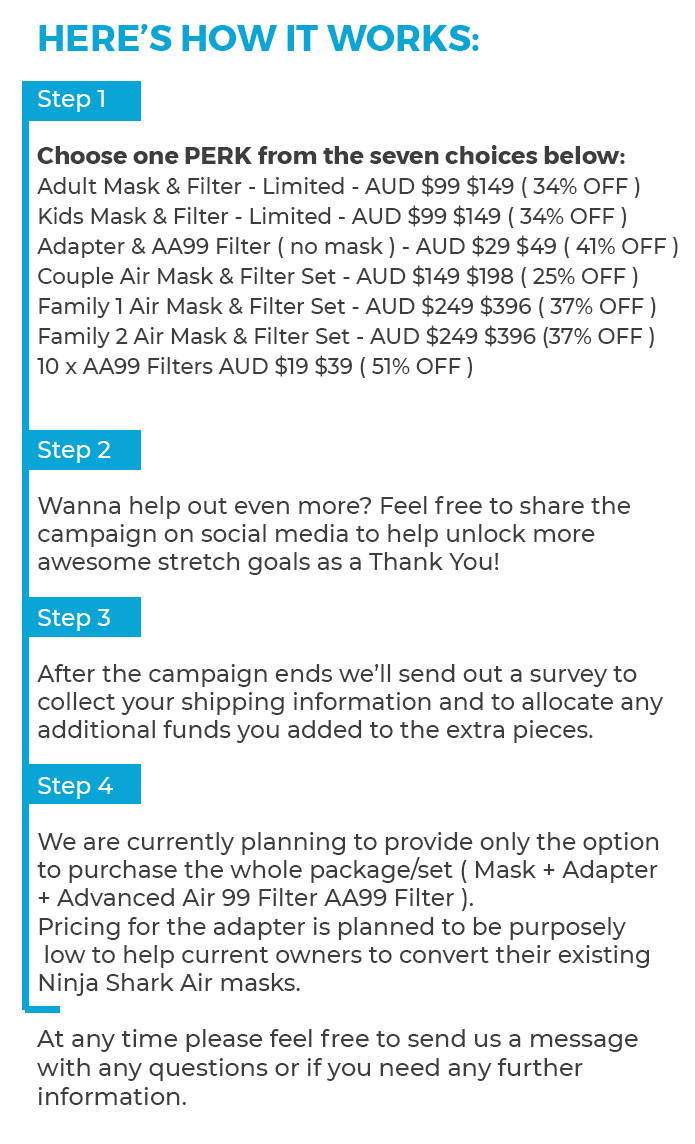 BY SUPPORTING THIS CAMPAIGN, YOU'LL BE:
1. Protecting yourselves and your community
2. Allowing hospitals and clinics save N95 medical masks for their use.
3. Supporting an aussie small family business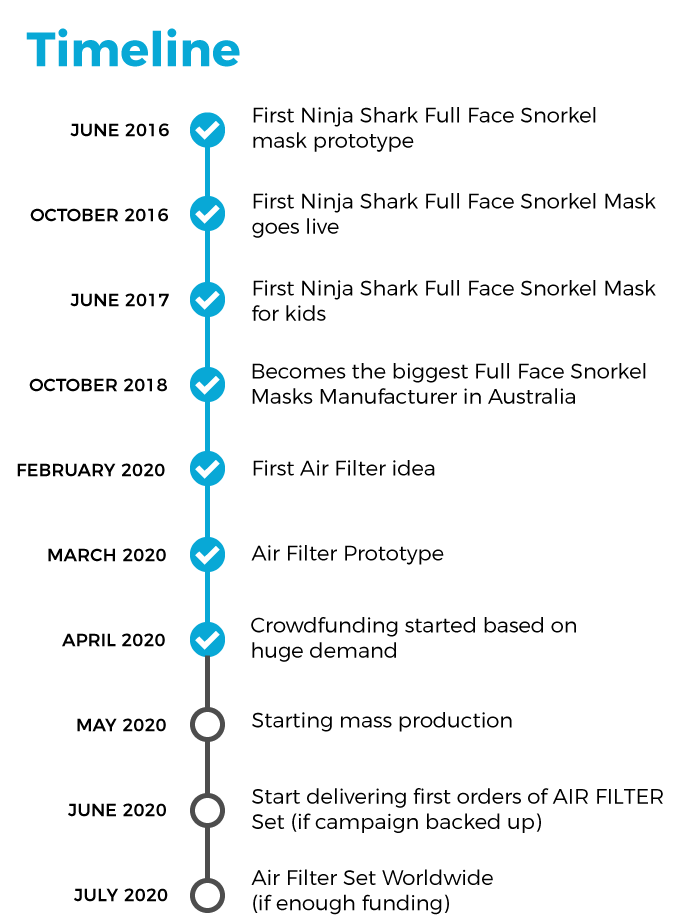 Ninja Shark started out more as a passion than a business.
When the passion becomes entwined with ambition and determination, with small but confident steps, the dream has become a way of life.
We're proud to be a small Aussie family business born in South Sydney Shire, a wonderful endeavour, but also very challenging at the same time.
Andrew & Alizee, husband and wife, CEO and CFO at Ninja Shark Australia, have joined forces and ideas almost 4 years ago, in 2016, to develop the first Ninja Shark full face snorkel mask.
All our Ninja Shark products are designed and tested in Australia. But over the years, we've seen customers using our products all over the World.
We've started with just an idea but grew the Ninja Shark family very fast. Something that I'm sure we will do it again. To transform again a great idea into reality.
Today, with over +10,000 happy customers in the entire world, I know we can stand even stronger.
Our mission is to help people discover the underwater world, to discover new passions, to give them the opportunity to escape from everyday life and to provide them with well-being because snorkelling doesn't have to be difficult.
But today, we pause the fun for a second and ask your help to restore the faith and balance in the World.
Your impact (with any kind of support) is bigger than you can think of.
LOVED BY OUR SNORKELLING COMMUNITY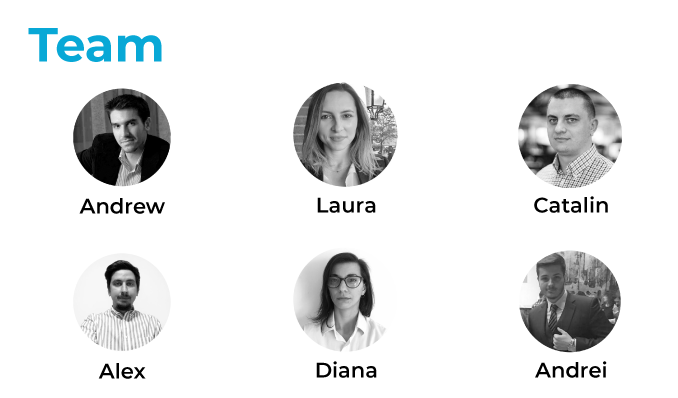 Other Ways You Can Help:
It will mean a lot to us if you help us spread the word
We already are in contact with media news lets around the country to spread the message, but any help is more than welcomed. Feel free to share with us any journalist/media contacts or information that might help
Thank you for reading this, we appreciate it!
❗️IMPORTANT:
We, Ninja Shark & Smart Hub Pty Ltd, DO NOT want to compare our masks, with the adapter or not, to any, more standard, protective equipment. We are just providing a possible solution, in such a sensitive time, to physically create a barrier, with the addition of the N95 filter, to any contagious circumstances. This is NOT a medical device.
The medical advice has been incorporated, as advice only, and we are not responsible for any improper usage and eventual infection.
We want to clearly state that none of our ideas are certified at the moment and these are not to be intended as typical medical or PPE products.
We cannot guarantee any sort of performance - we just tried to do our best to help convert millions of snorkeling masks already available in people's homes, into something that seems to be chronically hard to find at the moment.
We are in desperate need of testing and "certification" help to respond to requests. Any official agency is more than welcome to contact us.
---
In the first stage, we are delivering only to Australia.
Depending on the interest and the goal reached, we will do our best to deliver worldwide.
If you already have your distribution channel in your country, please contact us to look into further options.
1. Can I purchase just the filter if I already have the Ninja Shark Air mask?

Yes, sure you can, but that will be possible once we reach the goal and be able to start mass production. We are currently planning to provide only the option to purchase the whole package/set (Mask + Adapter + AA99 filters)
Pricing for the adapter is planned to be purposely low to help current owners to convert their existing Ninja Shark Air masks.
2. Does it work on both adults & kids Ninja Shark Air masks?

Yes, the AIR FILTER will work on both adult & kids masks.
3. When I can expect to receive them if I placed my support?

It depends a lot on how fast we reach the production goal, based on the current data, we estimate 30 to a maximum of 60 days (worst case).
4. What happens if it doesn't go into the production?

We truly hope and trust all Aussies out there that this won't be the case. BUT, should that happen, you will have the option to either get a full refund OR get the snorkelling gear for the amount paid (I'll make sure you are getting 2x more than what you've paid).
5. Can I cancel and get a refund before the final delivery?

Yes, you will be able to withdraw your support anytime before the final dispatch, but you will lose your position as well when this will become publicly available.
6. What if I can't afford the entire cost?

First of all, it will be the most affordable option. Secondly, we will provide AfterPay and ZipPay as an option for your support.
#Indiegogo UPDATE
This is the latest update in regards to our recent attempt to launch a crowdfunding campaign to raise awareness and funds for the new Ninja Shark Air - which has been requested by so many people.
First of all, apologise and thank you for those who backed us on Indiegogo in those 24 hours when we were live. Although our initial campaign has been approved, since we've reached so much interest in such a short period of time we might have triggered a higher review process.
At the time I'm writing this message, they haven't replied to our appeal and the campaign is still in review. It's their platform at the end of the day, therefore, they can do whatever they want in their house even though there was a previous approval.
Everyone will receive their money back from Indiegogo. All the Indiegogo contributions will be reverted.